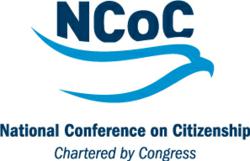 Washington, DC (PRWEB) September 12, 2012
A study released today by the National Conference on Citizenship (NCoC) shows that a strong civic foundation is directly linked to strengthening employment at the metropolitan, county, and state levels. Communities with better civic health have weathered the recent recession far better ? and experienced considerably smaller increases in unemployment ? than other communities that faced similar economic circumstances.
The NCoC report, ?Civic Health and Unemployment II: The Case Builds,? was produced in partnership with the John S. and James L. Knight Foundation, with research led by CIRCLE (The Center for Information and Research on Civic Learning and Engagement) at Tufts University, Civic Enterprises, and The Saguaro Seminar at Harvard University. It identifies two aspects of civic health that matter most in preventing unemployment: the presence of a significant nonprofit sector, defined as the number of nonprofits per capita in each community; and social cohesion, the level at which citizens trust, talk to and help neighbors, and socialize with family and friends.
The reports concludes that each of these factors is valuable in preventing unemployment increases and, taken together, strengthen the economic immune system of a community, helping it to avoid severe increases in unemployment. For example, the ten states that scored the best on both measures had unemployment rates of 6.5 percent in 2010, compared to 10.8 percent unemployment in the lowest-scoring states.
?This research demonstrates that social capital is an important weapon in fighting economic downturns,? said Michael Weiser, NCoC Chairman. ?It should serve as a wake-up call to public officials, business executives and other community leaders bent on improving the economic circumstances of their communities and the nation, writ large.?
The evidence suggests that when civic health is higher, people have more affection and optimism for their own communities and put more trust in their neighbors. When investors, employers, and citizens feel greater commitment to the places they live, they may be more likely to make economic decisions that generate or protect local jobs. Furthermore, being engaged with fellow citizens and participating with nonprofits can build local allegiance that may make individuals more likely to spend, invest, collaborate, and address problems in their own communities. These small choices can have ripple effects for a community?s ability to remain strong during a crisis.
?A secret weapon in America's economic recovery can be found in the connections between and among citizens, and a strong nonprofit sector," said NCoC Executive Director David B. Smith. ?In cities and towns across the country, strong civic health is the bricks and mortar of a strong economic foundation.?
The research builds on a report published by NCoC in 2011 and Knight Foundation?s Soul of the Community study, which explored how people?s love for their community relates to economic vitality. The previous NCoC study found that states and major metropolitan areas that had higher levels of civic engagement in 2006 experienced smaller increases in unemployment in the period between 2006 and 2010. The findings were reinforced this year, employing statistical modeling to investigate the relationship between civic health and unemployment in the 50 states, 942 metro areas, and more than 3,100 counties since 2006. It controls for numerous economic variables including housing inflation, presence of oil and gas industries, level of education, and race and ethnicity. Findings of the 2012 report include:
Nonprofit Density